公司简介
ALPHALAS公司成立于 1997年,坐落在德国著名大学城哥廷根其创始人兼总裁 年,坐落在德国著名大学城哥廷根其创始人兼总裁 年,坐落在德国著名大学城哥廷根其创始人兼总裁 Krassimir Stankov是在锁模激光器中产生短脉 冲 的基本方法和设备发明者。其产品短脉(亚纳秒 ,皮和飞)和
产品列表
Picosecond Pulse Diode Lasers with Driver: PICOPOWER™-LD Series

The ALPHALAS PICOPOWER™-LD Series of Picosecond Pulse Diode Lasers with Driver are generating short laser pulses with wavelengths ranging from 375 nm to 1550 nm as well as custom-specific wavelengths. Our picosecond pulse diode lasers deliver pulse durations below 40 ps and peak powers can exceed 3 W. Repetition rates range from single shot up to 80 MHz.
Ultrafast Photodetectors - New Models Available
CCD Line Cameras - New Advanced Model Available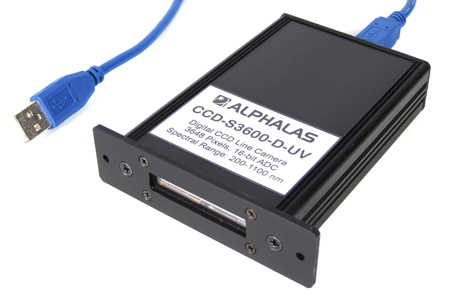 ALPHALAS GmbH has released a new advanced high-speed digital CCD line camera.
The CCD-S3600-D(-UV) includes a high-sensitivity linear CCD sensor array with 3648 pixels and UV-option, high-precision 16-bit ADC, large 32 MB of fast DDR2 onboard RAM, USB 2.0 plug & play, free drivers & applications for LabVIEW & C++ and many more unique features.
ACQUISITION & VIEWER SOFTWARE for Windows is now included for FREE!
Our Products: Lasers, Optics, Electronics
Our company offers you a wide range of products in the fields of lasers, optics and laser-related electronics - from complex laser systems to simple components.

In our Products Section you will find:
Diode-Pumped Solid-State (DPSS) Lasers - from UV to IR, from CW to fs

Modelocked DPSS Lasers (100 fs - 100 ps)

Q-Switched DPSS Lasers (microchip, <1 ns, >1 mJ)

CW DPSS Lasers (single frequency, 532 nm, 1064 nm)

DPSS Laser Kits for Education & Research

Ultrafast Photodetectors (30-500 ps, 170-2000 nm)

CCD Line Cameras (high-sensitivity, USB 2.0 & LabVIEW drivers)

Laser Diode Drivers & TEC Controllers

Pockels Cell Drivers

High-Voltage Nanosecond Generators

Unique Tunable Z. O. Waveplates (150-7000 nm, 1-21 µm, best for femto lasers)

Laser & Nonlinear Crystals

Optical & Laser Components

... and many other interesting products!