公司简介
MOGlabs公司位于澳大利亚墨尔本,由一批来自于实验室、真正熟悉实验室科研需求的科学家和工程师组成。MOGlabs致力于提供性能、设计与功效完美平衡的激光器产品。目前的主要产品包括高性能的半导体激光器和八大功能合一的激光器控制器电子设备。产品在融合日常使用半导体激光器的实验室科学家和研究人员的数十年经验积累的基础上开发而成,能够快速满足您各项需求,为您的试验目标提供助力。其产品在质量、性能、易用性等方面非常出色,有业界最高的性价比。
目前MOGlabs的产品广泛使用于全球的众多实验室。来自澳大利亚、英国、保加利亚、加拿大、中国、法国、德国、马来西亚、荷兰、俄罗斯、苏格兰、新加坡、南非、韩国、瑞典、泰国、美国、阿联酋、越南等国家众多的研究人员选择MOGlabs的产品,为他们的科学研究提供可靠的帮助。

产品列表及应用
1、Laser electronics
Diode laser controller DLC202/DLC252/DLC502


---

Sub-5 kHz ECDL linewidth demonstrated by customer using MOGLabs DLC controller!

The April 25th 2014 Optics Express article is available free online.
---
The MOGbox DLC202 laser diode controller is the world's first all-in-one controller for driving and frequency locking an external cavity diode laser. Every model includes:


All in one box, based on a single 10-layer PCB (plus the external photodetector and protection/connection circuit board for the laser head).

We have used design principles developed by audio (hifi) fanatics, combined with expertise from designing complex 24-layer circuit boards for the optical fibre communications industry. Test results are superior to anything else available commercially; for example, linewidths below 70kHz.

Rack mount kits are now available! They incorporate full extension ball-bearing runners that easily slide out from the rack, to access internals or rear-mounted cables.


The ultimate controller for single-frequency diode lasers

Everything you need to drive an external-cavity diode laser and lock it to an atomic reference

Superior performance and ease of use


Eight devices in one


Plus...


Options


The datasheet for the DLC202/252/502 is available here.Further details and product manual can be found under SUPPORT.
2、Tunable cateye Lasers
Cateye diode laser CEL002

The MOGLabs cateye diode laser offers a new twist in external cavity diode lasers. A cateye reflector and ultranarrow filter replace the alignment-sensitive diffraction grating of conventional Littrow and Litman-Metcalf designs.


The CEL002 is robust, stable, and acoustically inert. You can literally hit it with a hammer and it will stay locked, and it is inherently self-aligning so you can tune tens of nanometres without having to realign. In combination with MOGLabs electronics, the linewidth can be well below 100 kHz. Most laser diode wavelengths are available, for example 393 to 400, 423 to 426, 460, 470, 638, 647, 671, 739 to 800, 820 to 895, 920 to 935, at powers up to 200mW extra‐cavity.

Enjoy the rock-solid stability normally expected only from DFB and DBR diodes – but with wide-range tunability, order-of-magnitude smaller linewidth, broader range of wavelengths, much lower sensitivity to optical feedback – and much lower diode cost.



Features


Benefits


Applications


The datasheet for the CEL002 is available here. Further details and product manual can be found under SUPPORT.

See performance data for typical test results.

---
CEF extended cateye diode laser





The MOGLabs cateye diode laser is also available in an extended chassis which allows internal mounting of a Faraday isolator, and single-mode fibre coupling. Fibre coupling is extremely simple and stable using two mirrors (or one mirror and PBS beamsplitter cube, for access to a second beam for frequency stabilisation). We typically use Schafter+Kirchhoff couplers as shown but can also use Thorlabs FiberPort adapters. Coupling efficiency is over 70% with near infra-red diodes.

The datasheet for the CEF is available here.

3、Tunable Littrow Lasers
Littrow extended cavity diode laser ECD004
Our latest research-quality Littrow configuration extended cavity diode laser with monoblock chassis. Machined from a solid block of aluminium alloy, this laser is compact (105x90x90mm), robust and stable. With a standard (uncoated) 780nm diode, the laser will scan modehop-free at least 15GHz (in some cases up to 40GHz). The linewidth is routinely below 200kHz and can easily achieve sub-100kHz.

The diode is user-changeable and we even include a free† spare!
Some common configurations:

Basic: 780nm with 90mW diode (60mW output)
Advanced: 780nm, 795nm or 852nm, UltraAR diode, 100mW output
High power: 770 - 820nm, UltraAR diode, 150mW output
Extreme: 770 - 820nm, UltraAR diode, 200mW output

Note: UltraAR diode requires 500mA supply, e.g. DLC-502

The datasheet for the ECD004 is available here. Further details and product manual can be found under the SUPPORT menu.


MOGLabs offers a vast array of wavelengths including, but not limited to, 369.5nm, 399nm, 405nm, 413nm, 422nm, 461nm, 492nm, 639nm, 657nm, 671nm, 689nm, 767nm, 770-820nm, 852nm, 866nm, 960nm, 1033nm, 1092nm...just ask us!

Click here for information on AR-coated diodes, Faraday isolators, and other options.
† Free diode for select wavelength/power combinations only, e.g. 780nm/90mW, 660nm/120mW.
4、RF synthesizers and AOM drivers
The MOGLabs ARF421 AOM driver provides two channels of agile RF frequency synthesis with
optional high-power output drivers. Built-in PID feedback servo allows simple application as an optical power noise eater. Uses AD9910 DDS cores, a high-speed FPGA, and separate microcontrollers for communication and control.

Go to product page
---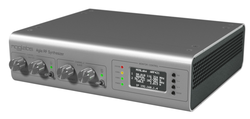 The MOGLabs SAS021/SAS421 uses enhanced DDS devices (AD9914) for faster and higher resolution RF control. We expect customer-ready product in 2017.

Go to product page
5、Optical amplifiers
Optical amplifier MOA002

The MOGLabs amplifier is a low-cost tapered amplifier for use with single-frequency external cavity diode lasers. Laser power is increased by up to 2W, while maintaining the tunability and linewidth of the injection seed laser. Replacement of the amplifier diode and alignment are easily accomplished by the end-user. Wavelength options extend from 630nm to 1064nm, and powers up to 2W.


Available with optional input and output isolators.


Features



Benefits



Applications

The datasheet for the MOA002 is available here and under SUPPORT.
6、Laser and controller accessories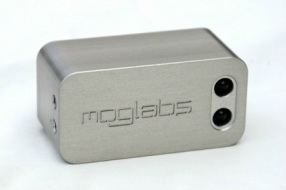 The photodetector supplied with MOG controllers is available separately. In standard configuration, it provides a balanced differential Si-PIN photodiode pair, with 720kHz bandwidth (–3dB) and very low noise. Standard photodiode options include 350nm–1120nm, 400–1100nm or 740–1100nm (solar blind) sensitivity, ±10, 20 or 75° degree field of view. Dimensions are 68 × 30 × 30 mm.

Prices
PDD001-°°-λ US$730

°° = ±10°, ±20° ± 75° specifies the field of view

λ=400–1100nm, 740–1100nm specifies the spectral sensitivity
---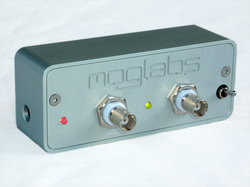 Our electronic driver for a very fast (sub-microsecond) mechanical shutter for laser beams, using a voice coil actuator from a hard disc drive.† The actual shutter is described in the paper Enhanced laser shutter using a hard disk drive voice-coil actuator, Rev. Sci. Instrum. 78 026101 (2007).

The shutter, and variations based on loudspeaker voice coils, relay actuators and other electromechanical devices, are easily constructed, but the electronics can be a nuisance. MOGLabsoffer an advanced version of the circuit described in the paper above, for use with any standard plugpack power supply (DC 12 to 48 V). It offers both manual (toggle switch) and TTL control, and will drive a forward or reverse current, up to 6 amps.

Prices
SD002 fully assembled and tested US$390

†Please note, we do not offer the mechanical shutter, only the electronic driver. Substantial information regarding mechanical shutters is availablehere.

---
Several accessories can be provided for our diode laser controllers and laser heads, such as AR-coated diodes, Faraday isolators, vapour cells, headboards, Zeeman modulation coils, and more.

Go to diode laser accessories page.