公司简介
Block公司利用其在光谱学方面的专业特长,开发了下一代量子级联式激光(QCL)光谱仪及低成本、基于MEMS的迷你式FTIRs。紧随着签订的几项超过1600万美元的政府发展协议,Block开发了一系列基于QCL技术的光谱仪,并继续提升其基于MEMS的FTIR系列产品性能。
Block公司基于量子级联式激光QCL技术,开发生产了大范围可调谐中红外激光器,既可以作为实验室高性能应用方案,也可以用于器件、系统的集成。
技术能力
Research
Published Research Papers Featuring Block's Technology
Block's spectrometer products and widely tunable QCL sources have been featured in numerous research papers. Please click here for a current list of papers.
Block Engineering Technology
Quantum Cascade Lasers (QCL) Technology
Quantum Cascade Lasers are semiconductor devices, which operate differently from conventional semiconductor lasers. For information on QCL technology used by Block, please click here.
Fourier transform infrared spectroscopy (FTIR) Technology
FTIR Spectroscopy is a sensor technology based on the Michelson interferometer. To read a description of the technology used in a basic Michelson Interferometer as well as passive FTIR spectroscopy, please click here.
Microelectromechanical systems (MEMS) Technology
Block is using sophisticated MEMS technologies to develop miniaturized FTIRs on a chip. For information on our MEMS technology, please click here.
产品列表
Quantum Cascade Laser Instruments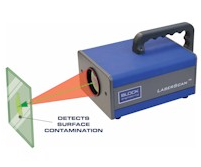 Standoff Passive FTIRSpectroscopy Products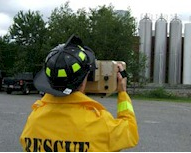 PORTHOS™: Portable Hazard Observation System offering lightweight (~15 lbs), battery (~6 hrs) operation with built-in detection software algorithm and automatic calibration with no user intervention. Block currently offers two models: PORTHOS-500 (0.5° field of view) and PORTHOS-1500 (1.5° field of view)
应用领域
Detection of Chemical Threats: Block has developed an open-path chemical detection system that detects chemical threats — including Toxic Industrial Chemicals and Materials (TICs/TIMs) and Chemical Warfare Agents (CWAs) — in parts-per-billion (ppb) ranges from standoff distances of hundreds of meters. The system registers warnings in seconds, allowing for rapid response to threats.




Gas Leak Detection and Fenceline/Perimeter Monitoring: Block Engineering's LaserWarn detects target chemicals, including Volatile Organic Compounds (VOCs), across perimeters as large as 500 meters. The eye-safe lasers allow for mounting in areas where workers or other people will be present. The system continually scans for gases that cross the laser beam path, and triggers alarms when concentration thresholds are detected.